About Us
Supporting inclusion and access to food security since 1992
Resto Plateau is a non-profit organization and social economy actor with the mission of supporting autonomy, inclusion and access to resources to respond to essential needs like food security in the Montreal community and its surrounding areas.
Resto Plateau's role as a workplace integration employer means that it offers its program participants more than just a job, but also professional training and personalized social support, so that they can successfully enter the labour market and develop careers in the restaurant industry.
Its role in the community means that Resto Plateau is a welcoming space where everyone can share healthy meals at an affordable price.
Resto Plateau also works with people experiencing food insecurity or isolation by supporting their food self-sufficiency as well as their social autonomy, in partnership with other community actors.
Helping to build an inclusive society where everyone has space to grow with dignity.

History
1990
Round Table
The "Action Solidarité Grand Plateau" Round Table brought together the Plateau's primary social and community stakeholders to develop a project with two objectives: responding to both issues of poverty and food insecurity in the borough and to issues of a lack of professional training and job discrimination.
jan 1992
Operations launch
Resto Plateau débuts its operations in the basement of the Saint-Denis church. 8 individuals were trained as assistant cooks and meals were prepared for people in need.
june 1993
Fondation
Resto Plateau's General Organization Meeting.
1997
New service!
Creation of Resto Plateau's catering service.
july 1999
Moving
Resto Plateau moves out of the church basement and sets up shop at its current address, which at the time was still used by the Religieux du Très-Saint-Sacrement. Moving allowed Resto Plateau to finally have all of the space it needed to carry out all of its operations in one place.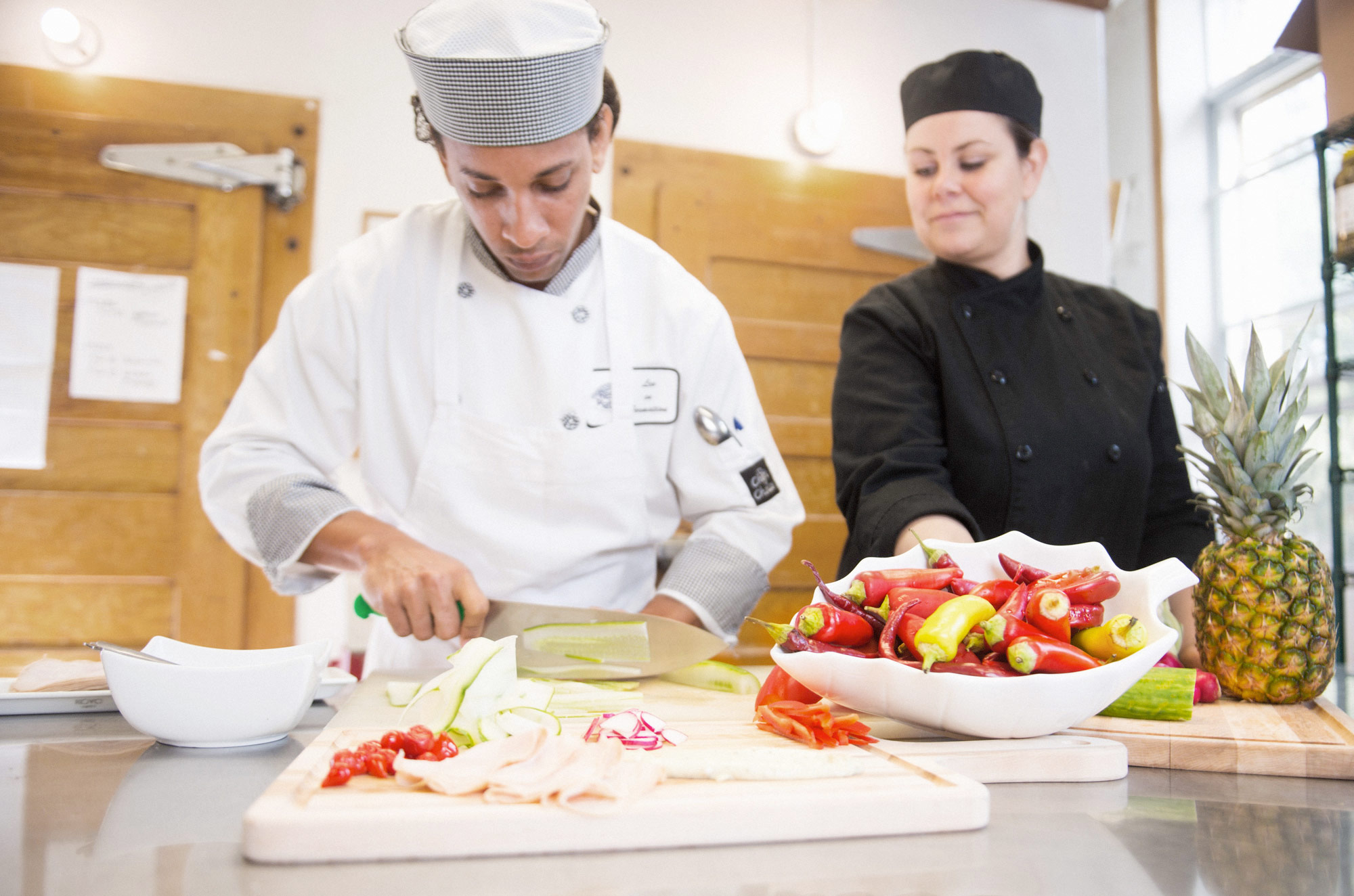 Aimé Chartier, President
Rattanak Biv, Vice-President
Christian Vaillant, Treasurer
Fedor Jila, Secretary
Jennifer Assogba, Director
Danielle Dumas, Director
Francois-Nicolas Landry, Director
Francis Picard, Director
Eve-lyne Poulin, Director
Administration
Audrey Mougenot, Managing Director (maternity leave)
Andrée Louis-Seize, Managing Director (interim)
Lina Arruda, Accounting Manager
Amandine Raimbault, Financial and accounting manager
Natacha Gwizdalla, Communication and Marketing Officer
Chloé Miguet, Project manager
Chloé Jouve, Management and administration intern
Community
Gaëlle Descary, Community Coordinator
Charlet Brethomé, Community worker
Nathe Perrone, Animation of the living environment
Production
Lévis Lavoie, Director of Production
Sophie Plante, Director of Production
Julie Flynn-Robitaille, Operations Manager
Workplace Integration
Andrée Louis-Seize, Integration Director
Line Laframboise, Recruitment Officer
Simon Talbot,  Employability project manager
Rachelle Bolduc, Psychosocial Support Worker
Janic Diotte, Psychosocial Support Worker
Karine Daigle, Chef Trainer – Theory
Yann Cadic, Chef Trainer – Theory
Cyril Hue, Trainer in other catering trades
Catering
Charlotte Levisse, Sales Coordinator
Guilaine Pelletier, Customer Service Coordinator
Félix Donadieu, Sales Consultant
Steve Blais, Delivery
Emmanuelle Porcher, Catering production Chef
Emileigh Kozdas, Evening and weekend Chef
Isabelle Arbour, Catering Sous Chef
Mouaad Azennoud, SPVM Cook
Central Kitchen
Siham Belhaissi, Kitchen production Chef
Murielle Vézinet-Rochette, Cook
Jhoane Louis, Chef Trainer – Training
Martin Dostaler, Sous Chef
Volunteers
Over the last year, 177 individuals performed a total of 2,500 hours of volunteer work. We are so grateful for each and every one of them!
BECOME A VOLUNTEER